We spend a lot of time in our bedrooms without realising it, our bedrooms are often the sanctuary within our homes and our gorgeous fitted bedroom furniture will create a comfortable and elegant atmosphere. 
Fitted bedroom furniture comes in all shapes and sizes, adding practical storage solutions like Fitted Wardrobes, as well as functionality to your bedroom space. 
All of our built in bedroom furniture is tailor-made to your requirements and specifications and built to fit seamlessly into your bedroom.
Styles of Fitted Bedroom Furniture
Fitted Bedrooms (Furniture Custom Built for You)
Fitted Bedroom Furniture Custom Built for You
We have a wide range of fitted bedroom furniture options available, these can be tailor-made and combined to create all-in-one custom bedroom furniture or can be crafted as individual pieces that are fitted and match the rest of the furniture and décor.
Built In Solutions (Bringing Fitted Bedroom Furniture to Life)
Built In Solutions Bringing Fitted Bedroom Furniture to Life
By hiring us to create your fitted furniture you're getting a 5-star rated service with years spent honing our craft to create bespoke, stunning and elegant fitted furniture.
Our goal is always to compliment your taste and existing décor and accentuate your rooms further with our wonderfully crafted fitted furniture. 
To get a FREE, no obligation quote, simply fill in our free quote form and we will provide you with a price. 
Happy to proceed? Great, we will book an appointment to come out to your home, discuss the design further and take the all-important measurements and to discuss in detail your project.
Within weeks your room can be transformed from a cluttered environment into a smooth, flawless and clean living space that you can be proud of. 
All of our fitted bedroom furniture is completely made to measure and then installed by our expert installation team.

Expert Craftsmanship & Precision Installation​
Each one of our built in bedroom furniture  is constructed to your specification by our own in-house team expert craftspeople and installed by our own highly skilled outfitters. We specialise in creating high-quality personalised fitted bedroom space to exceed your expectations.
Our built in and fitted bedroom furniture is guaranteed to optimise your space in a functional, adaptable and elegant design delivered to our highest quality and within a competitive price. 
Finest Materials & Finishes​
Every piece of fitted furniture that we create for your home is made with the best quality material and professionally finished and installed.
The materials used are based on each customer's desires whether you choose a solid wood or a painted finish for a modern look. We will use the finest materials possible to fit within each budget.
Creating the perfect finish for your furniture is perhaps the most important factor bringing to life your design, as this is what makes the furniture look great, therefore we offer a range of finishes from hand painted with paint from various suppliers for example, Farrow & ball, or Little Greene,
Spraying your furniture gives you the best possible finish. We can spray paint your furniture with any of the above paints, or alternatively in an extra hard lacquer to provide a lifetime of use in any range or sheen levels, from eggshell to gloss and is available in any colour.
Finishing is carried out in our workshop prior to each piece been fitted to your home, meaning your furniture will be ready sooner with less disruption.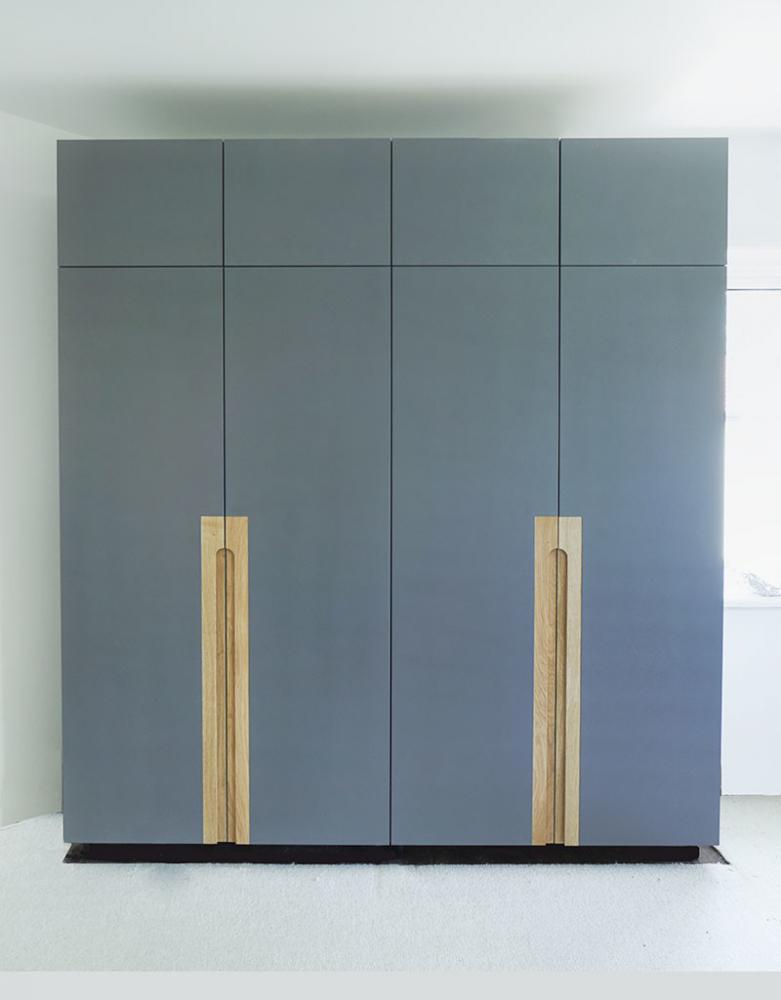 Choose us and you get....
5* Star Furniture & 5* Rated Service

Our custom-made fitted furniture is created with you in mind, we design and create all aspects of your bespoke made furniture that accentuate your living space.

Robustness​
All of our bespoke furniture is constructed using only strong and robust materials.

Pre-finished​
Pre-finished in your colour of choice in a special hard wearing protective lacquer. Means less disruption…

Fitted in only one day!​
Yes you read that right, Fitted in only one day! Why should you put up with any longer ?
Guaranteed​
We guarantee all of our work and only design and construct bespoke furniture to our high standards.
Get in contact with us today to discuss your ideas and we will give you a quotation FREE of charge with absolutely no obligation. Just fill out our Free Quote Form
We provide bespoke, High Quality Fitted Furniture at affordable rates.