Built in bookcases make a wonderful addition to all sorts of unused spaces within the house. Easily accessible and practical, even the smallest fitted bookcase can make a dreary space within the house feel vibrant and warm again.
We are the areas leading built in bookcase and cabinet makers and love providing functional and beautiful storage solutions with a luxury finish regardless of your budget.
All of our fitted furniture is crafted to your specifications with care and attention and then constructed for you, allowing you to put your feet up and enjoy your newly acquired custom-made furniture.
Bespoke

Bookcases, Made to Measure and Built to Last

When we create your bespoke bookcases, we take lots of things into consideration. 
A purpose built in bookcase needs to be functional, look great and be durable and fit for purpose. 
We use only quality materials when constructing your built in bookcases, selecting woods that are robust and finishing them in our special protective lacquer. 
All of this great craftsmanship and attention to detail means that your bespoke bookcases will not only be fantastic for storing books, but they will be great to look at for years to come.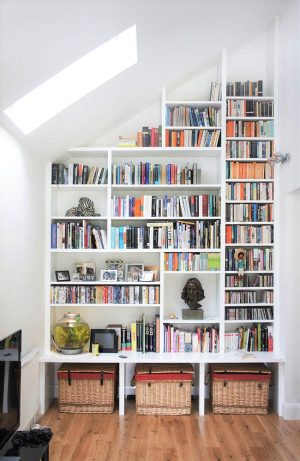 If you're struggling for bookcase ideas, or you aren't sure about how best to implement or reclaim dead spaces within the house, have a look at our complete list of fitted bookcases ideas. 
There are so many options and features available with built in bookcases, we are confident that with a bit of inspiration you can find an elegant and practical built in bookcase or fitted home library for any unused space within your home.
Best Service Awards - 6 years running !
Choose us and you get....
5* Star Furniture & 5* Rated Service

Our custom-made fitted furniture is created with you in mind, we design and create all aspects of your bespoke made furniture that accentuate your living space.

Robustness​
All of our bespoke furniture is constructed using only strong and robust materials.

Pre-finished​
Pre-finished in your colour of choice in a special hard wearing protective lacquer. Means less disruption…

Fitted in only one day!​
Yes you read that right, Fitted in only one day! Why should you put up with any longer ?
Guaranteed​
We guarantee all of our work and only design and construct bespoke furniture to our high standards.
Get in contact with us today to discuss your ideas and we will give you a quotation FREE of charge with absolutely no obligation. Just fill out our Free Quote Form
We provide bespoke, High Quality Fitted Furniture at affordable rates.