Our houses normally have multiple television sets and even more gadgetry and technology that accompany them. 
Our crafted and bespoke fitted media centres give your TV the perfect space to be seen, as well as housing all the additional boxes and media platforms that you likely have.
With today's sleek, cutting edge TV technology, you will definitely want an equally stunning and stylish TV media unit as the perfect media backdrop.
We offer TV wall units and multimedia cabinets and cupboards that suit modern living, made in a wide variety of designs and all fully customisable. Our units are a dedicated space for all of your TV needs.
Hide away all of the unsightly wiring, backlight your shelving to showcase your Blu-ray, DVD and Game collections, securely house your surround sound and keep your "set-top" boxes in order.
Custom TV Media Entertainment centres (Designed Around You)
Our TV wall units and TV media centres are created and designed around you and your lifestyle.
Some people opt for simple, classic TV cabinet arrangements that house the TV atop the cupboards and use the elegantly designed cabinets beneath for storage.
Others opt for whole wall features that centre the TV and provide cabinet storage as well as cubby holes and shelving around for books, games and DVDs.
Minimalist TV fitted furniture accentuates your TV and keeps clutter completely out of sight. Other TV fitted furniture showcases all of the wonderful tech that you own as well as ornaments, family heirlooms and photographs of loved ones.
Regardless of which option you prefer, all TV fitted furniture has incredible functionality and is designed to hide wiring and other electrical components.
Spot lighting gives your media centre that extra "WOW" factor and can really transform your TV fitted furniture into something masterful, especially in the evening/night-time hours.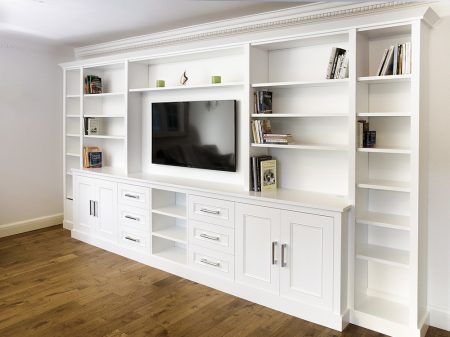 Custom Made TV Furniture by Our Amazing Team
Designed and built and installed by our highly skilled in-house team.
We specialise in creating quality personalised Built in and Fitted Furniture that optimises space in a functional, adaptable and elegant design delivered to a high quality and within a competitive price.
Finest Materials & Finishes​
Every piece of fitted furniture that we create for your home is made with the best quality material and professionally finished and installed.
The materials used are based on each customer's desires whether you choose a solid wood or a painted finish for a modern look. We will use the finest materials possible to fit within each budget.
Creating the perfect finish for your furniture is perhaps the most important factor bringing to life your design, as this is what makes the furniture look great, therefore we offer a range of finishes from hand painted with paint from various suppliers for example, Farrow & ball, or Little Greene,
Spraying your furniture gives you the best possible finish. We can spray paint your furniture with any of the above paints, or alternatively in an extra hard lacquer to provide a lifetime of use in any range or sheen levels, from eggshell to gloss and is available in any colour.
Finishing is carried out in our workshop prior to each piece been fitted to your home, meaning your furniture will be ready sooner with less disruption.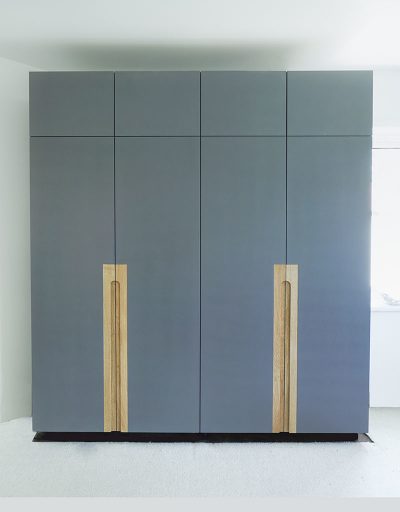 Expert Craftsmanship & Precision Installation​
Each one of our built-in TV units are constructed to your specification by our own in-house team, expert craftspeople and installed by our own highly skilled outfitters. We specialise in creating the highest quality personalised built in TV units to exceed your expectations.
Our built in built-in TV  furniture is guaranteed to ideally optimise your space in a functional, adaptable and elegant design delivered to our highest quality and within a competitive price. 
Choose us and you get....
5* Star Furniture & 5* Rated Service

Our custom-made fitted furniture is created with you in mind, we design and create all aspects of your bespoke made furniture that accentuate your living space.

Robustness​
All of our bespoke furniture is constructed using only strong and robust materials.

Pre-finished​
Pre-finished in your colour of choice in a special hard wearing protective lacquer. Means less disruption…

Fitted in only one day!​
Yes you read that right, Fitted in only one day! Why should you put up with any longer ?
Guaranteed​
We guarantee all of our work and only design and construct bespoke furniture to our high standards.
Get in contact with us today to discuss your ideas and we will give you a quotation FREE of charge with absolutely no obligation. Just fill out our Free Quote Form
We provide bespoke, High Quality Fitted Furniture at affordable rates.