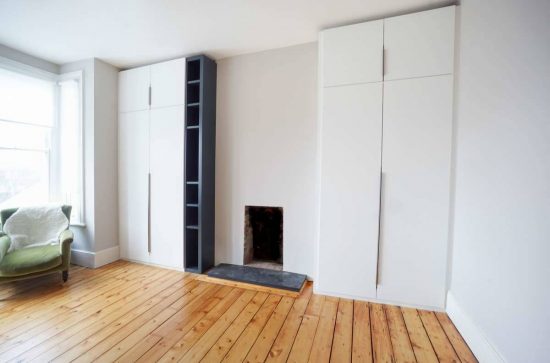 Modern Contemporary Bedrooms & Wardrobes
Modern fitted Bedrooms and Wardrobes have become a very popular addition to the home, with clients opting for a range of colours from lighter woods, neutral or bold contrasting colours, and sophisticated styling. 
We create bespoke and custom-made built in fitted wardrobes that compliment your modern décor and provide the perfect backdrop to your living environment. 
With many options to choose from, you are spoilt for choice with our modern fitted wardrobes.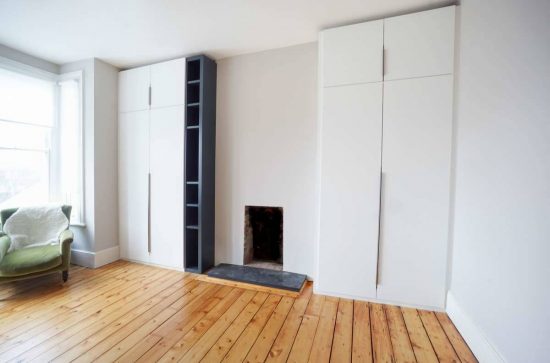 When creating your custom made modern fitted Bedroom wardrobes you will have an extensive range of design choices to choose from. 
Decide the structure and internal storage as well as whether you want to include drawers or cubbyholes, and then pick the doors that suit your lifestyle best.
You can choose doors such as roller or sliding doors that sweep to the side gracefully or traditional hinge mounted doors. 
Once you have decided on the essential components of your wardrobe you have numerous finish options to choose from to make your wardrobes fully customised and something you can definitely call your own.
Modern Fitted Bedroom Wardrobes (Finishes)
Choose from a huge range of wood or bold colours, gloss finishes or softer paint shades to make sure that your wardrobes compliment your living space and look stunning. 
Seamlessly combine your preferences to create a smooth and crisp fitted wardrobe that will not only look fantastic but will provide ample storage space. 
We are expert craftsman and fitted wardrobe makers, allowing you to create timeless modern fitted wardrobes and bedrooms with confidence.
Choose us and you get....
5* Star Furniture & 5* Rated Service

Our custom-made fitted furniture is created with you in mind, we design and create all aspects of your bespoke made furniture that accentuate your living space.

Robustness​
All of our bespoke furniture is constructed using only strong and robust materials.

Pre-finished​
Pre-finished in your colour of choice in a special hard wearing protective lacquer. Means less disruption…

Fitted in only one day!​
Yes you read that right, Fitted in only one day! Why should you put up with any longer ?
Guaranteed​
We guarantee all of our work and only design and construct bespoke furniture to our high standards.
Get in contact with us today to discuss your ideas and we will give you a quotation FREE of charge with absolutely no obligation. Just fill out our Free Quote Form
We provide bespoke, High Quality Fitted Furniture at affordable rates.