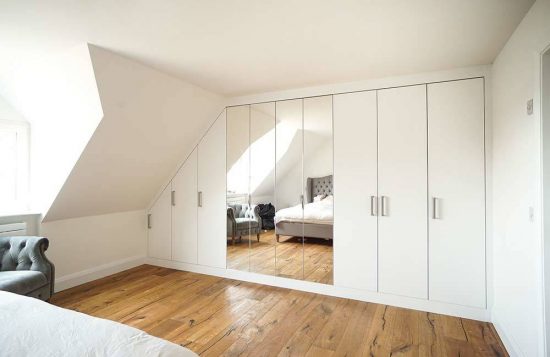 Built in Mirror Wardrobes
Built in mirror wardrobes are the perfect way to compliment your living space and give the impression that your rooms are larger than they actually are.
Mirror fronted fitted wardrobes are also extremely good at projecting natural light across your entire room, making your home feel more ambient and fresher.
Built in mirror wardrobes are entirely customisable, giving you the freedom to express your personality and build furniture that characterises your style.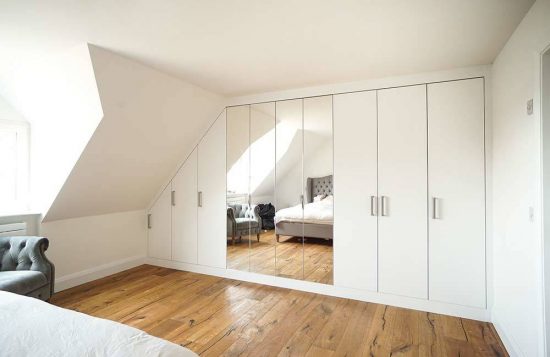 Fitted Mirror Wardrobes Options
When creating your fitted mirror wardrobes you can choose to have a seamless all-in-one mirror effect or opt to have the mirrors in panels within the outer frame of your wardrobes.
The complete mirror fitted wardrobes are exceptionally appealing and give your room a crisp and modern aesthetic look.
 While panelled mirrors enable you to frame your mirrors with warmer wood finishes, giving a homelier and more welcoming feel. 
Incorporate smart door design and you can have a very functional mirrored slider that sweeps effortlessly across the width of your fitted mirror wardrobe.
Built In Mirror Wardrobes Finishes
Adding a mirror to the wardrobe front is extremely versatile when it comes to design, do you want one continuous mirror sheet or do you want individual mirrors that make up the overall design? 
Do you want all framework hidden from the eye and give the impression you have one large mirror or do you want the mirror embedded within the framework? 
When it comes to built in wardrobes, mirrored wardrobes are a flexible and dynamic style type with complete customisation according to your preferences.
Choose us and you get....
5* Star Furniture & 5* Rated Service

Our custom-made fitted furniture is created with you in mind, we design and create all aspects of your bespoke made furniture that accentuate your living space.

Robustness​
All of our bespoke furniture is constructed using only strong and robust materials.

Pre-finished​
Pre-finished in your colour of choice in a special hard wearing protective lacquer. Means less disruption…

Fitted in only one day!​
Yes you read that right, Fitted in only one day! Why should you put up with any longer ?
Guaranteed​
We guarantee all of our work and only design and construct bespoke furniture to our high standards.
Get in contact with us today to discuss your ideas and we will give you a quotation FREE of charge with absolutely no obligation. Just fill out our Free Quote Form
We provide bespoke, High Quality Fitted Furniture at affordable rates.